If there's one thing that captured the interest of any kids in the 80s it was dinosaurs. Every kid loved them and they made appearances in practically every cartoon - most notably as the Dinobots in
The Transformers
. But so few cartoons capitalized on it like
Dinosaucers
.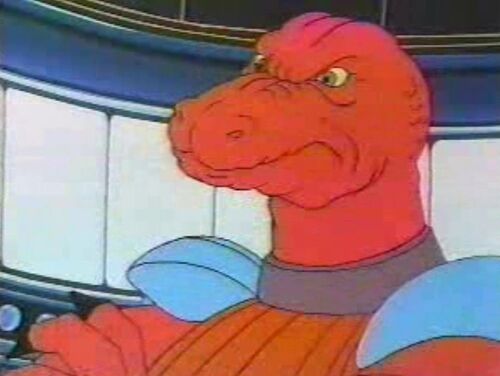 In this cartoon, a race of aliens called the Dinosaucers from the planet Reptilon comes to earth on a friendly mission to look for resources, but are followed by the evil Tyrannos. Typical cartoon nonsense words if I've ever seen them. But the cartoon was pretty cool - the characters were the most interesting being humanoid looking dinosaurs with lots of colors. The best part was when the good guys "dinovolve" - becoming full-fledged dinosaurs! I loved watching this cartoon and it's a wonder to me that it didn't last that long - though I'm sure it had at least a little to do with the fact that it had no toyline release, although that's a sort of "the chicken or the egg" thing. Over time, it was practically forgotten among the deluge of more successful cartoons, something I think is a big shame.

Genghis Rex was the leader of the Tyrannos. I wish I could say I remember more about him, but as this cartoon faded from everyone else's memory, it's done the same in mine. He yelled a lot and seemed to get great delight from being called silly names like "Bossasaur." He was a smart leader, even understanding at times, but was quick to rage as well. I don't remember him having any particular powers (since he and his minions were unable to dinovolve), but still, being a 20-foot tall half-dinosaur is still pretty damned powerful.
Each of the characters in the cartoon had their own flying ship and the Tyrranos' base was a giant red T Rex robot (reminds me a lot of Trypticon but more spiky).
I'm ready to rule - Coolness - 8. Genghis Rex looks pretty awesome. He's a big red T Rex looking guy, what's not to like? His voice is a deep rumble that fits his character very well.
Effectiveness - I watched a few episodes while I was writing this and I think his plans ran the gamut from decent to laughable. Of course none of them work at all, but I think he's pretty even with the rest of the villains, so I'm giving him a 4.