Now that Halloween is over and our guts are full of chocolate and peanut butter (or at least mine is), it's time to turn our eyes to something more substantial. No, I'm not talking about turkey - okay well, I am - but we've got a whole month to wait before we can chow down on that. What do we eat in the mean time though? It's too cold out to grill burgers, and I'm coming down from my sugar high, so there's only one option, and that's pizza. And there's no better pizza than the stuff during the opening credits of
Teenage Mutant Ninja Turtles: The Secret of the Ooze.
I mean, look at that greasy, stringy, delicious mess. Those slices look positively mouth-watering. The movie starts out with five minutes of credits over which everybody from cabbies to cops chowing down, and I want to join them.
Okay, it's kind of a weird intro to a Ninja Turtles movie. Yes, pizza has been a staple of the Turtles' diet since day on of their cartoon in 1989. Every episode has them scarfing pies, with each consecutive appearance having worse and worse toppings. Check out this montage of their orders and see how disgusting it gets as the series went on.
Peanut butter and clams? That's disgusting! I think over the course of the series, I was turned off pizza for a while. Want to see something even worse? James Rolfe of the Angry Video Game Nerd had a
pizza party
where he tried all these things!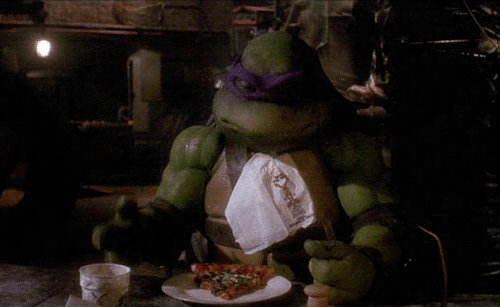 Of course, when the Turtles came to film, their eternal cravings came with them. The first movie had a few little scenes that centered around pizza, a couple funny jokes, but didn't focus on it much. And thankfully, since they were doing a promotional thing with Domino's Pizza, they had to stick with traditional toppings. I can't imagine how much money they made off the product placement in that movie. They even put Domino's 30-minute delivery guarantee in it, and we all learned a valuable lesson from Michelangelo -
"Forgiveness is divine, but never pay full price for late pizza."
Domino's wasn't the only pizza place to get a chunk of the Ninja Turtles change. Between the first and second movie, Leonardo, Raphael, Michelangelo, and Donatello were the stars of an atrocious touring music show. The less said on it the better, but guess who plugged $20 million into the tour's production - Pizza Hut. I can't find any pictures of that promotion, and it's definitely for the best, since the tour was so bad and Pizza Hut probably disavowed all knowledge of a promotion.
That takes us to the second movie with its mouth-watering opening. You'll notice none of the pizza has a special name. There's no company logo with it, besides the generic "Roy's Pizza" name (which may be some famous place in New York, and if it is, I'm sorry, Roy). Pizza plays a more important role in the movie too, being an important plot point for delivery boy and budding martial artist Keno to find the Turtles. More than that though, pizza's popularity kinda parallels the Turtle's own fame. Just as pizza is spreading across New York as this cultural icon, so too have the Turtles become the popular kids property at the time. They had become king of movies, and the further they went, so too would their desire for pizza, and so our own cravings would grow as well. There's not a more popular food in all of pop culture, I believe, and a lot of that has to come from the Turtles and their insatiable appetite.
This post was made in part of
Silver Screenings
and
Speakeasy
's
Food in Film Blogathon
. Make sure to check them out for all your scrumptious cravings.